A revolutionary new approach to fighting cancer, CAR T-cell therapy has the potential to fundamentally transform cancer treatment.
The Malaghan Institute, in partnership with Wellington Zhaotai Therapies, is developing and trialling a 'third generation' CAR T-celltherapy inNew Zealand and undertaking parallel research focusing on improving CAR T-cell therapies and extending them to other cancers.
A Phase I safety trial - ENABLE - got underway at the end of 2019 for people with certain types of relapsed and refractory B-cell non-Hodgkin lymphoma who have exhausted other treatment options.
How does it work?
CAR T-cell stands for Chimeric Antigen Receptor T-cell. The therapy works by redirecting a patient's own immune cells (T-cells) in the laboratory, to directly identify and attack cancer cells. These modified T-cells are then returned to the patient where they can attack and destroy cancer cells. The T-cells can act as 'living drugs', providing long-term protection against relapse, similar to a vaccine.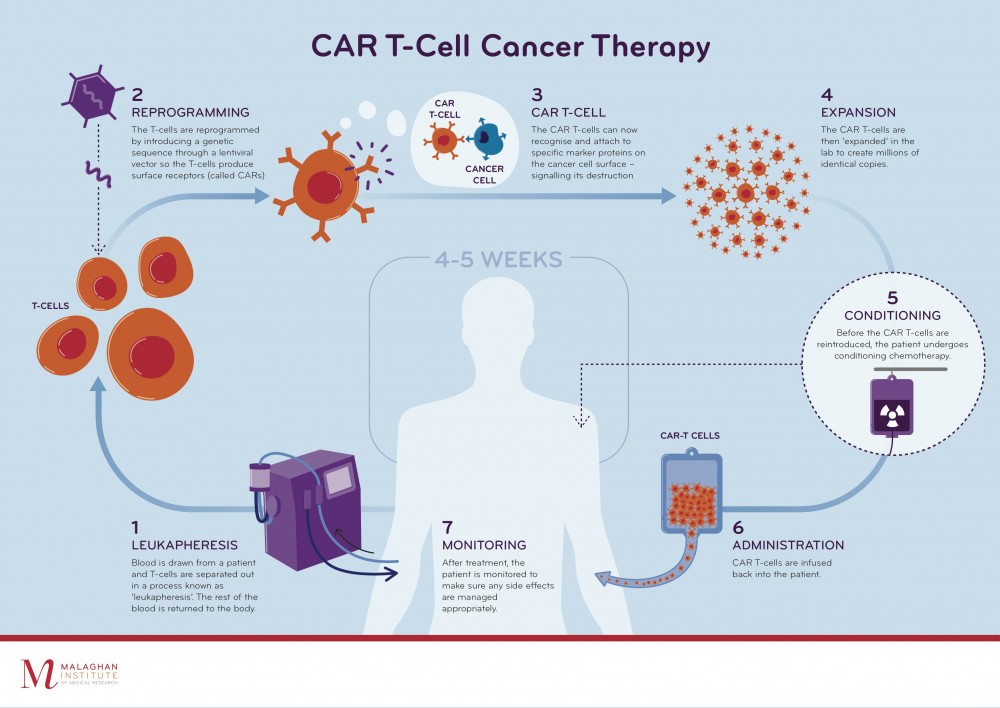 Download a pdf of our CAR T-Cell Cancer Therapy infographic
What/who is this treatment for?
CAR T-cell therapy has the potential to target a range of cancers. To date, it has proven most effective in trials targeting B-cell cancers, such as certain types of leukaemia, lymphoma and myelomas. Initial trials are for patients who have not responded to conventional treatments. The Malaghan Institute's CAR T-cell ENABLE trial is for people with certain types of relapsed and refractory B-cell non-Hodgkin lymphoma who have exhausted other treatment options.
How can I get into the trial?
We have informed clinicians who work with the relevant group of patients that our trial is now open. The Malaghan Institute is not a provider of health services and does not recruit patients to clinical trials directly. Patients should speak with their specialist (oncologist or haematologist) about their treatment options. Referrals to the CAR T-cell ENABLE trial must be made by a relevant specialist (a haemotologist or oncologist) to the Clinical Trials Unit at Wellington Hospital via RES-Research@ccdhb.org.nz
Is the trial for patients across New Zealand?
This first CAR T-cell trial is taking place in Wellington, to allow close monitoring of participants, but referrals from other hospitals will be considered. With support from Leukaemia and Blood Cancer New Zealand, we hope to be able to provide travel and accommodation support for participants from outside the region.
How many patients will be on the trial?
Early phase trials are typically small – we anticipate up to 12 participants for this trial.
What is a phase I trial?
Phase I trials are usually small trials to assess the safety of a new treatment, and to determine the optimal dose. Patients are recruited gradually onto phase I trials, to enable safety monitoring between participants, so can take some time to complete.
How long will this trial take? When will the results be available?
We anticipate that it will take 12-18 months to complete treatment of all patients on the trial. While we will get preliminary response data over the course of the trial, full analysis of the preliminary outcome data from the trial will take up to a further year. Trial participants will be monitored for five years within the trial, and lifelong within a Cell Therapies Registry.
What happens after the trial?
The data collected from this exploratory, early phase clinical trial will help inform the safety of these CAR T-cells and may detect signals of efficacy, which could lead into a phase II trial where patients are treated at a set dose and efficacy is tested more thoroughly.
Who can I contact for more information about the trial?
We encourage patients to speak to their own haematologist or oncologist to ask whether this trial might be an option for them. A public summary of the ENABLE trial is available on the ClinicalTrials.gov website. The Clinical Trials Unit at Wellington Hospital can be reached via RES-Research@ccdhb.org.nz
Has this therapy been used anywhere else in the world?
This is the first trial of CAR T-cells made in exactly this way at the Malaghan Institute in New Zealand. However, there are many trials of similar CAR T-cells worldwide, and some 'second generation' CAR T-cell therapies are licensed for routine use in Australia, the USA and Europe for certain types of leukaemia and lymphoma. As a result, the safety profile of CAR T-cell therapies is becoming better understood. The treatment we are working on has been developed as a 'third generation' CAR T-cell therapy, which we hope will be more effective or easier to deliver than the treatments currently available elsewhere. However, we do not know this yet, which is why this safety trial is being conducted.
Where can I find out more information about CAR T-cell therapy and other cancer immunotherapies?
There is a wide range of resources, support and avenues available, here are just a few:
Australian New Zealand Clinical Trials Registry is an online registry of clinical trials being undertaken in New Zealand, Australia and elsewhere.
Cancer Research UK has a comprehensive plain English overview of cancer immunotherapy options.
NIH National Cancer Institute also has information and resources on cancer immunotherapy.
Leukaemia and Blood Cancer NZ has a range of information booklets and resources and offers advice and support for blood cancer patients, their families and carers.
Cancer Society NZ provides cancer and treatment information and support.
ASSOCIATED RESEARCH GROUPS