27 January 2023
New Zealand immunologist Dr Michelle Linterman is based at the Babraham Institute
in Cambridge where she leads a research group investigating

how our immune system responds to new infectious agents as we age. She recently spent time at the Malaghan Institute collaborating with colleagues and sharing her research into vaccine immunology.

"As a Kiwi immunologist living in England, I always enjoy the opportunity to visit the Malaghan Institute and hear about the research happening here," says Dr Linterman. "I'm fortunate enough to have visited every year since 2017,including twice during the COVID pandemic, thanks to luck with the managed isolation lottery."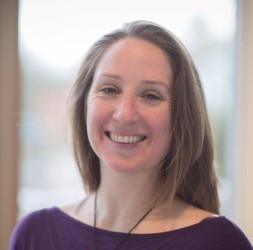 How we respond to new infectious organisms throughout our lives, in particular how an ageing immune system adapts and responds to new threats and vaccinations, is an important area of research. The Linterman Lab has been focused on answering this question, as well as how the various components and cells of the immune system coordinate their response to remove harmful organisms.
"The scientific heart of my laboratory is the germinal centre reaction, which is where long-lived antibody mediated immunity is created after vaccination or infection. We are keen to understand how different types of white blood cells get together at the right place, and at the right time to ensure that long-lived antibody responses are generated. We're also interested in understanding why the germinal centre response is impaired in older bodies, because this underpins the poor response to vaccination in ageing."
Dr Linterman says the visit was also a good opportunity to make plans with Malaghan Institute postdoctoral researcher Dr Theresa Pankhurst (Ngāi Tahu, Ngāti Kahungunu, Ngāti Porou), who will be joining her lab in April this year as part of her Te Urungi Churchill College By-Fellowship.