Our people
Dr Olivia Burn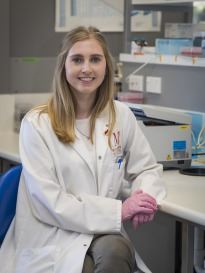 Dr Olivia Burn received her PhD from the University of Otago under the supervision of Dr Robert Weinkove and within the Cancer Immunotherapy programme at the Malaghan Institute. Her thesis was centred around the innate-like T cell populations natural killer T (NKT) cells and Vγ9Vδ2 T-cells and how these can be harnessed to enhance cancer vaccine effectiveness, with a particular focus on breast cancer.
Dr Burn is currently working as a postdoctoral research fellow in Professor Ian Hermans' Cancer Immunotherapy Programme.
Read more about her research here.
---
Research interests
Vaccine effectiveness requires multiple activation signals directed to antigen presenting cells (APCs) to provoke robust activation of T-cells upon antigen recognition. I am interested in how NKT cells provide these signals to APCs and whether the location of NKT cells within the body influences the types of infectious diseases or cancers they can help treat.
Research group
Cancer Immunotherapy Programme
Cancer Immunotherapy Programme Leader:
Professor Ian Hermans
Senior Research Fellow:
Dr Olivier Gasser
Clinical Research Fellow:
Dr Robert Weinkove
Team Leader:
Dr Rachel Perret
Postdoctoral Research Fellows:
Dr Patricia Rubio-Reyes
Dr Regan Fu
Dr Nathaniel Dasyam
Dr Olivia Burn
Senior Research Officers:
Connie Gilfillan
Astrid Authier-Hall
Kathryn Farrand
Ching-Wen Tang
Research Officers:
Olga Palmer
Tia Haira
PhD Students:
Jarem Wylie
Yasmin Nouri
Ellie-May Jarvis
Research projects
My current work involves investigating the NKT cell and CD8+ T cell phenotypes induced by various glycolipid-peptide conjugate vaccines designed in collaboration with Prof Gavin Painter's laboratory at the Ferrier Research Institute.