29 April 2022
The theme of 2022's

International Day of Immunology

is vaccines. Thrust into the limelight over the last two years, vaccines have been topic of unity and division, safety and anxiety, but ultimately a major game-changer in our fight against COVID-19.

There's something about a state of emergency that kicks humans collectively into gear. Often this means finding innovative solutions, taking risks, investing deeply and pushing into the vastly unknown at an unprecedented rate. The COVID-19 pandemic caught much of the world off guard, yet, for many scientists, it was the opportunity to apply the expertise they had been building over many years. As a result of this tenacity and innovation, we now have mRNA technology which has enabled us to make effective vaccines in record-breaking time. Immunologist and Director of the Malaghan Institute of Medical Research, Professor Graham Le Gros says the urgent and global focus on vaccine development is unprecedented.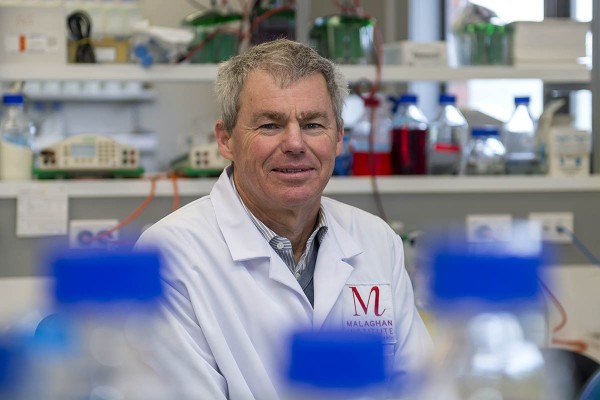 The COVID-19 pandemic enabled technologies and research endeavours which have been going on for the past 20 years in the mRNA therapy space to be brought together in a very safe, focused and effective way," says Prof Le Gros. "This technology now has a considerable safety profile as hundreds of millions of people have received the mRNA vaccines."
Like many innovations that were developed to address very specific problems, mRNA technology has the potential to offer much more, and is predicted to become as commonplace and revolutionary as computers and penicillin.
"It has opened the floodgates for a whole new type of technology based around the delivery of treatments to cells using lipid nanoparticles. It can now be applied to many other therapeutic indications, not just for stimulating the immune response but also treating people with genetic conditions or metabolic disorders. This is a major breakthrough," says Prof Le Gros.
As a promising new technology, the Malaghan Institute is starting to build the know-how and infrastructure in New Zealand for future mRNA vaccine development, including effective boosters against COVID-19 and other infections as well as personalised vaccines for cancer. Though vaccines are often thought of as a preventative strategy against infectious diseases, in the case of cancer, they are a type of therapy.
"It has opened the floodgates for a whole new type of technology based around the delivery of treatments to cells using lipid nanoparticles."
"With a virus or bacteria, they have well-defined antigens that stay relatively consistent. The trouble with cancer is that cancer cells are highly specialised towards the immune system of the individual and the particular type of cancer. So you can't actually predict the target before a person gets the cancer," says Prof Le Gros.
"The vaccine must be made while the person has cancer and before the cancer mutates further to evade the vaccine's effects or the cancer becomes too serious. With mRNA vaccine technology, we finally have the turnaround time from sequencing the genome to turning it into a therapy to enable us to target cancer."
A few challenges still exist before cancer vaccines can be implemented for the treatment of cancer.
"We still don't have enough fundamental knowledge about how our immune system works in our lymph nodes and how the various arms of the immune system work in concert to create very discreet and selective types of responses that are designed exquisitely to respond to threats that affect specific parts of our body. We don't know enough about how fundamental switching between different arms of the immune system occurs. We need to have that fundamental knowledge," says Prof Le Gros.
Scientists at the Malaghan Institute continue to investigate these fundamental issues that will ultimately translate into future vaccines against infectious diseases and cancer.
Professor Le Gros says he's had the honour of seeing two monumental advancements in immunology during his decades-long career. Firstly, being able to direct our immune system to target and destroy cancer cells, significantly shifting the existing paradigms in cancer research and treatment. Secondly, the maturation of mRNA technology in response to the COVID-19 pandemic.
"The future looks good on both these fronts. There's never been a better time to be a scientist!"