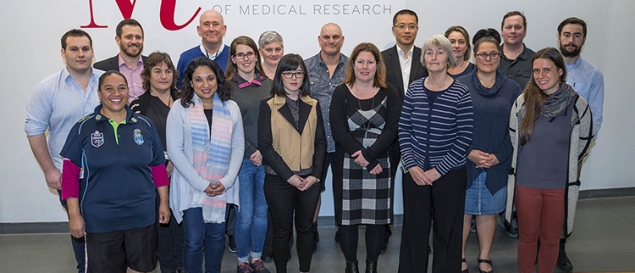 OPERATIONS
Mike Zablocki is our General Manager, responsible for commercial activity and managing the functions that support our research teams. Mike is also involved in the Institute's strategic management and relishes the challenge of constantly improving a top quality organisation.
Darrell Smith is our Facilities Manager. One day he might be oiling a squeaky office chair, the next day designing and overseeing the construction of a $5 million laboratory.
Tim Dallas is our Assistant Facilities Manager. Tim supports in keeping the Institute facilities running. No matter if it is a flickering light, an alarming fridge or new laboratory equipment set up, Tim is the man to deal with it.
Marie Armstrong is our IT Manager. She has oversight of our IT and communications infrastructure.
Elliot Caldwell is our IT Support Technician. He supports keeping the IT and communications infrastructure up and running and also takes care of end-user support for our computer systems.
Heike Menne-Spohr is our Human Resources & Research Office Manager. She oversees our HR function and runs our Research Office.
Hanna Johnstone is our Human Resources & Research Office Advisor. She is the first point of contact when it comes to recruitment or any other employment related matters. 
Lee Chappell is the first person to greet most of our visitors. He also is responsible for our purchase orders and kindly oversees the carpark. There is never a dull moment in Lee's work day.
Ilse Potes Morales is PA to our Director, Professor Graham Le Gros and to our General Manager, Mike Zablocki. She always finds a free slot in everyone's calendar and knows how to shift things around.
Apii Ulberg has been managing all the behind the scenes work that goes into ensuring the Institute always looks its best since 2004.  Described as the 'oil and glue' of the Institute, her dedication, helpfulness and sunny disposition are a constant example for us all.