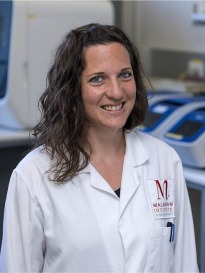 As the potential of immunotherapy grows, so must our team of specialised staff and researchers. Dr Laura Ferrer-Font recently joined The Malaghan Institute as a new Postdoctoral Research Fellow after completing her PhD in biochemistry and molecular biology at Universitat Autonoma de Barcelona (Autonomous University of Barcelona) in early 2017. She is excited to join our quest to develop world-leading cancer immunotherapies. 
---
Research interests
I am very interested in treating cancer with immunotherapy. It is the main reason I was drawn to The Malaghan Institute. Here, the main belief is that many diseases are treatable by this approach and my own research only supports that. I personally want to investigate what is going on inside a tumour that makes it responsive or unresponsive to a certain therapy. Furthermore, I want to uncover the role of the immune system in current treatments, like chemotherapy.
Research group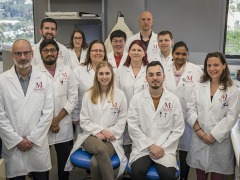 Cancer Immunotherapy Programme
Cancer Immunotherapy Programme Leader:
Professor Ian Hermans
Senior Research Fellow:
Dr Olivier Gasser
Clinical Research Fellow:
Dr Robert Weinkove
Research Fellow:
Dr Laura Ferrer-Font
Dr Nathaniel Dasyam
Senior Research Officer:
Kathryn Farrand
Ching-Wen Tang
Astrid Authier-Hall
PhD Student:
Joshua Lange
Olivia Burn
Regan Fu
Kef Prasit
Ellie-May Jarvis
Research projects
I am yet to decide on my project with The Malaghan Institute, so watch this space! With my particular skills and background in cancer research, there are quite few routes I could take to contribute to the fantastic research being done here.
In my previous projects, I worked for four years treating glioblastomas in mouse models with chemotherapy. We found that chemotherapy applied every six days performed better than the classic continuous administration approach. This suggests that changing the administration scheme of chemotherapy could improve the result for cancer patients.
Beyond this, I also used magnetic resonance spectroscopy to detect if a tumour is responding to treatment before we actually see it start to shrink, which can take time to be noticeable. This technique could speed up the process of finding the most effective treatment for different cancer patients and increase their chance of recovery.
Publications
2017
Ferrer-Font L, Villamañan L, Arias-Ramos N, et al. (2017) Targeting Protein Kinase CK2: Evaluating CX-4945 Potential for GL261 Glioblastoma Therapy in Immunocompetent Mice. Pharm
Arias-Ramos N, Ferrer-Font L, Lope-Piedrafita S, et al. (2017) Metabolomics of Therapy Response in Preclinical Glioblastoma: A Multi-Slice MRSI-Based Volumetric Analysis for Noninvasive Assessment of Temozolomide Treatment. Metabolites.
Ferrer-Font L, Arias-Ramos N, Lope-Piedrafita S, et al. (2017) Metronomic treatment in immunocompetent preclinical GL261 glioblastoma: effects of cyclophosphamide and temozolomide. NMR Biomed.
2016
Ferrer-Font L, Alcaraz E, Plana M, Candiota AP, Itarte E, Arús C (2016) Protein Kinase CK2 Content in GL261 Mouse Glioblastoma. Pathol Oncol Res.
Castells Domingo X, Ferrer-Font L, Davila M, et al. (2016) Improving Ribosomal RNA Integrity in Surgically Resected Human Brain Tumor Biopsies. Biopreserv Biobank
2015
Barroso E, Rodríguez-Rodríguez R, Chacón MR, Ferrer-Font L, et al. (2015) PPARβ/δ ameliorates fructose-induced insulin resistance in adipocytes by preventing Nrf2 activation. Biochim Biophys Acta - Mol Basis Dis.