Our people
Dr Karmella Naidoo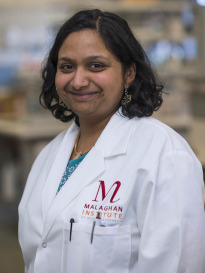 Dr Karmella Naidoo received her PhD at Victoria University of Wellington under the supervision of Dr Elizabeth Forbes-Blom and Professor Graham Le Gros. This PhD focus was to explore cells and cytokines involved in cutaneous immunity, with with a specific focus on atopic dermatitis (AD).
Dr Naidoo is currently part of the translational immunology programme, led by Dr Olivier Gasser.
---
Research interests
To further my passion for understanding the complex field of allergic disease, I have undertaken my postdoctoral research, at the Malaghan Institute of Medical Research, within the translational Immunology group, led by Olivier Gasser. My project has specific focus on the role of mucosal associated invariant T cells (MAIT) in allergic disease. This involves gaining insight into MAIT cell plasticity and responsiveness to environmental cues, at different barrier sites such as the skin and the lung. These investigations will contribute to understanding the roles of barrier dysfunction and microbial translocation in potentiating skin immune responses.
Research group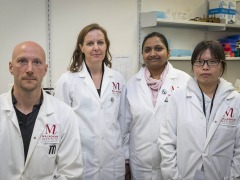 Translational Immunology
Translational Immunology Group Leader:
Dr Olivier Gasser
Research Fellow:
Dr Katherine Woods
Dr Karmella Naidoo
Senior Research Officer:
Angela Jones
Research Officer:
Aurelie Gestin
Yanyan Li
Masters Student:
Anna Mooney
Research projects
I developed a novel model of allergic skin inflammation which closely resembles the disease pathology observed in AD patients. This model serves as a platform for the study of key cells and cytokines that are involved in the initiation and maintenance of skin disease. My doctoral research revealed an important role for eosinophils in driving AD pathology, thus making eosinophils a potential therapeutic target.