Dr Christophe Pellefigues completed his PhD at the University Paris Diderot (Sorbonne Paris Cité, France). He focused on the role of basophils in lupus disease, a disorder where the immune system mistakenly attacks healthy tissues. He joined The Malaghan Institute as a Postdoctoral Research Fellow in 2015, working with Professor Graham Le Gros and Professor Franca Ronchese to investigate allergic and anti-helminth Th2 immune responses. 
---
Research interests
I am interested in painting a better picture of the immune response to pathogens and parasites in the skin. With two billion people harbouring helminth infections worldwide, understanding these processes will help us optimize vaccines. Immune responses that fight helminth infections are also very similar to those seen in allergic diseases, which are on the rise in developed countries. Increasing our knowledge of helminth responses may contribute to understanding why allergies develop.
What I love most about my research is making discoveries that contribute to improving human health. I am extremely excited that my day-to-day lab work could, one day, be helpful to people all over the world.
Research group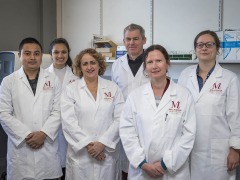 Allergic & Parasitic Diseases Programme
Programme Leader:
Professor Graham Le Gros
Senior Research Officer:
Mali Camberis
Melanie Prout
Research Fellow :
Dr Christophe Pellefigues
PhD Student:
Jodie Chandler
Research Officer:
Bibek Yumnam
Palak Mehta
Research projects
For the past two years, I have investigated how the immune system detects a prototypical parasitic worm, Nippostrongylus brasiliensis, when it is present in the skin. This process involves several molecular and cellular events. Our project explores how these events influence allergic and anti-helminth Th2 immune responses.
We discovered that some immune pathways thought only to be involved in fighting bacterial and viral infections are also active in responses to parasites and allergens. This knowledge has shed some light on this system's complexities and brings us closer to treatments and preventions.
Publications
2017
Dema B, Lamri Y, Pellefigues C, Pacreau E, Saidoune F, Bidault C, Karasuyama H, Sacre K, Daugas E, Charles N. (2017) Basophils contribute to pristane induced Lupus-like nephritis model. Sci. Rep.
2016
Connor LM, Tang SC, Cognard E, Ochiai S, Hilligan KL, Old SI, Pellefigues C, White RF, Patel D, Smith AA, Eccles DA, Lamiable O, McConnell MJ, Ronchese F. (2017) Th2 responses are primed by skin dendritic cells with distinct transcriptional profiles. J Exp Med.
2015
Madjene LC, Pons M, Danelli L, Claver J, Ali L, Madera-Salcedo IK, Kassas A, Pellefigues C, Marquet F, Dadah, A. (2015) Mast cells in renal inflammation and fibrosis: lessons learnt from animal studies. Mol. Immunol.
2014
Dema B, Charles N, Pellefigues C, Ricks TK, Suzuki R, Jiang C, Scheffel J, Hasni S, Hoffman V, Jablonski M, Sacré K, Gobert D, Papo T, Daugas E, Crampton S, Bolland S, Rivera J. (2014) Immunoglobulin E plays an immunoregulatory role in lupus. J. Exp. Med.
Dema B, Pellefigues C, Hasni S, Gault N, Jiang C, Ricks TK, Bonelli MM, Scheffel J, Sacré K, Jablonski M, Gobert D, Papo T, Daugas E, Illei G, Charles N, Rivera J. (2014) Autoreactive IgE Is Prevalent in Systemic Lupus Erythematosus and Is Associated with Increased Disease Activity and Nephritis. PLoS One
2013
Pellefigues C, Charles N. (2013) The deleterious role of basophils in systemic lupus erythematosus. Curr. Opin. Immunol.
Tourneur E, Mkaddem SB, Chassin C, Bens M, Goujon JM, Charles N, Pellefigues C, Aloulou M, Hertig A, Monteiro RC, Girardin SE, Philpott DJ, Rondeau E, Elbim C, Werts C, Vandewalle A. (2013)  Cyclosporine A Impairs Nucleotide Binding Oligomerization Domain (Nod1)-Mediated Innate Antibacterial Renal Defenses in Mice and Human Transplant Recipients. PLoS Pathog.