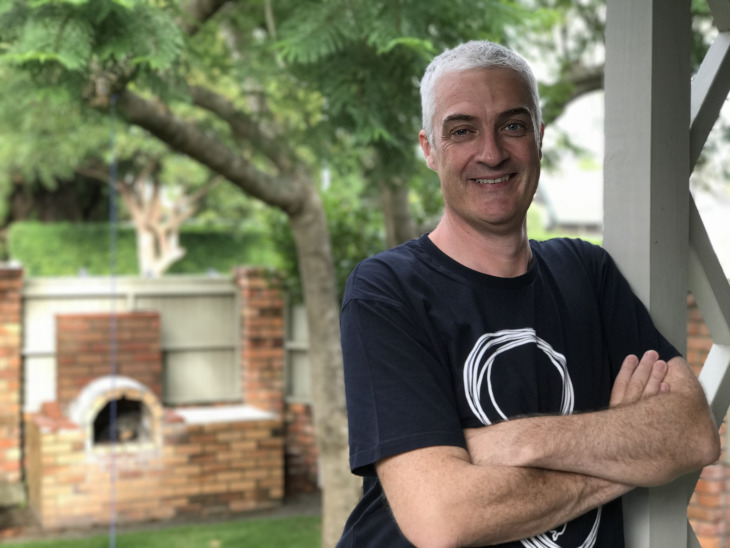 CAR T-cell supporter David Downs semi-finalist for New Zealander of the Year
16 December 2019, Cancer, CAR T-cell, DownwithCancerNZ
David Downs, cancer survivor and self-declared genetically modified organism is one of ten semi-finalists for Kiwibank New Zealander of the Year 2020 for his efforts in bringing revolutionary CAR T-cell therapy to New Zealand.
David, who was diagnosed with non-Hodgkin lymphoma in 2017, ultimately travelled to Boston, USA to receive life-saving CAR T-cell therapy. Upon returning to New Zealand (cancer free), David discovered that the Malaghan Institute was preparing to conduct its own CAR T-cell clinical trial, the first of its kind in New Zealand.
David pledged to raise funds and awareness to support the trial and to date has raised hundreds of thousands of dollars and clocked hundreds of hours and kilometres driving support through public speaking events, media appearances, comedy shows and writing a book, A Mild Touch of the Cancer. He is an advocate for better and more affordable cancer investment and care nationally, supports others facing terminal diagnoses and gives hope and laughter to all those affected by cancer.
"We are immensely grateful to have David as a champion for our CAR T-cell clinical trial and ongoing research," says Malaghan Institute Director Professor Graham Le Gros. "His dedication and passion show us all that real change can be driven through hard work and a desire to make a difference for others."