Our people
Dr Elizna Schoeman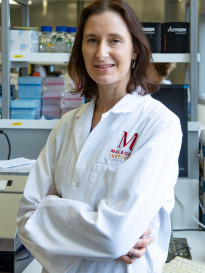 Dr Elizna Schoeman studied Pharmacy and gained research experience in Pharmaceutical Chemistry before completing her PhD degree in Biochemistry at the North West University in Potchefstroom, South Africa. Her PhD focused on the role of mitochondrial DNA mutation in paediatric mitochondrial diseases. Mitochondrial diseases are a group of metabolic disorders that occur when cells in one or multiple organ systems cannot produce enough energy to function.
Just before joining the MIMR, she worked as a Research Fellow at the Australian Red Cross Blood Service for 5 years. Her work focussed mostly on red cell immunogenetics. She developed new approaches to predict complete blood group, neutrophil and platelet antigen profiles for blood donors and patients using genetic data. She also co-developed non-invasive tests to detect fetal-maternal blood group incompatibilities where pregnancies are at risk of an immune response that can lead to hemolytic anemia in the fetus or newborn infant.
Dr Schoeman is now working as a Postdoctoral Research Fellow in the translational immunology programme under Dr Olivier Gasser.
---
Research interests
My research interests are in human genetics, metabolism and immunology but I also have lifelong personal interest in functional foods and nutraceuticals. My research at the Malaghan Institute places me in a privileged position to pursue all of these interests by focussing on increasing our understanding of how diet impacts the health of the immune system. Ultimately, I strive to identify new ways optimise the function of the immune system that may lead to improved health promoting and therapeutic approaches.
Research group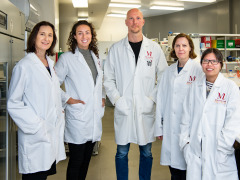 Translational Immunology
Translational Immunology Group Leader:
Dr Olivier Gasser
Research Fellow:
Dr Alissa Cait
Dr Elizna Schoeman
Dr Jeffry Tang
Dr Katherine Woods
Research Officer:
Yanyan Li
Research projects
My projects are focussed on understanding how the metabolism of immune cells relates to their function and how selected immune cell subsets are metabolically controlled. Currently, my main research project falls under the High-Value Nutrition National Science Challenges' Immune Health programme which aims to identify the ways in which nutrition can improve immune defence against respiratory illness. For this project, I will be studying the molecular mechanisms by which selected nutrients and bioactive compounds from food- and/or intestinal microbiota affect the dynamic interactions between metabolism and the immune system.