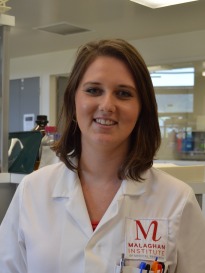 Dr Kerry Hilligan is an International Research Fellow in Prof. Franca Ronchese's  Immune Cell Biology Programme and is currently based in Dr. Alan Sher's lab at the National Institutes of Health in Bethesda, USA.
Kerry joined the Malaghan Institute in 2012 to undertake post-graduate research in the Immune Cell Biology Programme. Her research has centred around a rare population of innate immune cells, known as antigen-presenting cells (APC), that play vital role in initiating and shaping immune responses.
---
Research interests
I am interested in understanding the innate immune pathways involved in initiating and shaping adaptive immune responses. I have a particular interest in antigen-presenting cell (APC) populations, which are known play an important role in dictating the outcome of immune responses. I am working to understand the mechanisms by which various APC subsets recognise and respond to material from different pathogens and allergens, and ultimately, regulate the function of effector immune cells. The aim of this research is to inform vaccine design and assist with therapeutic strategies for autoimmune and allergic diseases.
Research group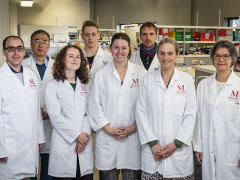 Immune Cell Biology
Immune Cell Biology Programme Leader:
Professor Franca Ronchese
Senior Research Fellow:
Dr Olivier Lamiable
Postdoctoral Research Fellows:
Dr Johannes Mayer
Dr Luis Munoz-Erazo
International Research Fellow:
Dr Kerry Hilligan
Senior Research Officers:
Marie Sophie-Fabre
Shiau-Choot Tang
Evelyn Hyde
Dr Jianping (Mark) Yang
Research Officer:
Abbie Larson
PhD Student:
Greta Webb
Research projects
 I am currently investigating how the immunological history of an individual may shape the composition and function of their antigen-presenting cells (APC) compartment. I am using pre-clinical models to test the effects of various inflammatory and infectious stimuli on the developmental trajectory and functional capacity of APC populations in both the short- and long-term.
Publications
2020
Hilligan KL, Ronchese F (2020). Antigen presentation by dendritic cells and their instruction of CD4+ T helper cell responses. Cell Mol Immunol. 17(6):587-599
Ronchese F, Hilligan KL, Mayer JU (2020). Dendritic Cells and the Skin Environment. Curr Opin Immunol. 64:56-62.
2019
R Blecher-Gonen, P Bost, KL Hilligan, E David, T Meir-Salame, B Cohen-Toth, E Roussel, JU Mayer, LM Connor, S Itzkovitz, B Schikowski, F Ronchese, I Amit, (2019). Single-Cell Analysis of Diverse Pathogen Responses Defines a Molecular Roadmap for Generating Antigen-Specific Immunity. Cell Syst. doi: 10.1016/j.cels.2019.01.001. 
2017
LM Connor, S-C Tang, E Cognard, S Ochiai, KL Hilligan, SI Old, C Pellefigues, RF White, D Patel, AAT Smith, DA Eccles, O Lamiable, MJ McConnell and F Ronchese, (2017). Th2 responses are primed by skin dendritic cells with distinct transcriptional profiles. J Exp Med. doi: 10.1084/jem.20160470
2016
KL Hilligan, LM Connor, AJ Schmidt and F Ronchese, (2016). Activation-Induced TIM-4 Expression Identifies Differential Responsiveness of Intestinal CD103+ CD11b+ Dendritic Cells to a Mucosal Adjuvant. PLoS ONE 11(7): e0158775. doi:10.1371/journal.pone.0158775.