Our people
Joshua Lange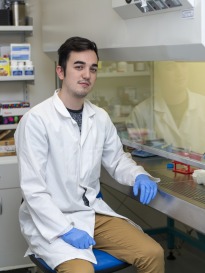 Joshua graduated from the University of Otago with a First Class BSc(Honours) after completing a research project in Dr James Ussher's lab. In 2016, he was granted the University of Otago Doctoral Scholarship and joined the Malaghan Institute and the Department of Pathology and Molecular Medicine, University of Otago.
Joshua's role as a PhD candidate involves the development of novel cancer immunotherapies as part of the Cancer Immunotherapy programme led by Professor Ian Hermans, in close collaboration with the Ferrier Institute. His work is funded by the University of Otago, the Health Research Council and Peter Lapsley Trust.
---
Research interests
Whilst studying at the University of Otago I developed a keen interest of the interaction between our immune system and various pathologies. In particular, invariant T cells such as NKT and MAIT cells have been shown to be not only key effectors in anti-microbial defence but also possess the ability to augment dendritic cell activation. This activation has been shown to be able to adjuvant peptide-based antigens and drive CD8+ T cell specific responses. In my PhD, I am exploring these interactions between invariant T cells and dendritic cells with our novel vaccines to potentiate anti-tumour responses.
Research group
Cancer Immunotherapy Programme
Cancer Immunotherapy Programme Leader:
Professor Ian Hermans
Senior Research Fellow:
Dr Olivier Gasser
Clinical Research Fellow:
Dr Robert Weinkove
Team Leader:
Dr Rachel Perret
Research Fellows:
Dr Regan Fu
Dr Nathaniel Dasyam
Senior Research Officers:
Astrid Authier-Hall
Kathryn Farrand
Ching-Wen Tang
Research Officers:
Michael Wilson
Olga Palmer
Anna Mooney
Sophia Noble
PhD Students:
Yasmin Nouri
Olivia Burn
Ellie-May Jarvis
Joshua Lange
Research projects
I am working on specific subsets of invariant T cell populations known as MAIT cells and NKT cells. These cells are both known to be potent bacterial effectors and have shown the ability to augment dendritic cell responses. My project involves how we can manipulate these invariant T cells to generate anti-tumour immune responses using novel vaccines.
I am also interested in the way these vaccines are processed within the cell. By altering the structure of certain compounds we can fine tune which compartments of the cell it reaches and influence how it is presented to the immune system and alter the magnitude of the response.
The manner in which dendritic cells present 'activatory' ligands to the immune system is also critically important for the magnitude of the immune response. Currently, I am exploring the cellular pathways involved in processing and trafficking of our vaccines to see how our anti-tumour vaccine responses are initiated. I aim to underpin these mechanisms so that we can better inform the research and development of stronger immunotherapies that can be translated into the clinic