Dr Philip George graduated from Bristol University in the UK with a BSc (Hons) in Biochemistry in 2006 before going onto study Graduate entry Medicine at the University of Warwick. He qualified as a medical doctor in 2010 and rotated through a number of specialities as a junior doctor before going on to specialise in Haematology. Dr George has worked as a Haematology Registrar in Leicester in the UK for the past 31/2 years before coming to work as a Clinical Research Fellow at the MMR starting in February 2018. Since qualifying as a doctor in 2010, Dr George has obtained a post graduate diploma in 'Understanding Research and Critical Appraisal' and presented a number of posters on clinical research projects at National Conferences. 
He has been a key part of the team to prepare and deliver the Malaghan Institute's phase I ENABLE CAR T-cell clinical trial in Wellington, New Zealand, and is now working as a co-investigator on the study.
---
Research interests
My research interests are focused on clinical research in haematological malignancies such as lymphoma and leukaemia. I have carried out clinical research projects and audits while working as a Haematology Registrar looking at aspects of the diagnosis and treatment of lymphoma. For example I presented a poster at the British Society of Haematology in 2017 on a research project looking at whether PET-CT Scanning can replace Bone Marrow Biopsies the diagnostic work up for Diffuse Large B Cell Lymphoma.
I have also been involved as a sub investigator on a number of clinical trials in Haematological Malignancies while working as a Haematology Registrar. This has included trials in Acute Myeloid Leukaemia, Acute Lymphoblastic Leukaemia, Chronic Lymphocytic Leukaemia and Mantle Cell Lymphoma. I am very excited to work on the CAR-T cell trial for patients with relapsed and refractory lymphoma at the Malaghan Institute.
Research group
Cancer Immunotherapy Programme
Cancer Immunotherapy Programme Leader:
Professor Ian Hermans
Senior Research Fellow:
Dr Olivier Gasser
Clinical Research Fellow:
Dr Robert Weinkove
Team Leader:
Dr Rachel Perret
Postdoctoral Research Fellows:
Dr Patricia Rubio-Reyes
Dr Regan Fu
Dr Nathaniel Dasyam
Dr Olivia Burn
Senior Research Officers:
Connie Gilfillan
Astrid Authier-Hall
Kathryn Farrand
Ching-Wen Tang
Research Officers:
Olga Palmer
Tia Haira
PhD Students:
Jarem Wylie
Yasmin Nouri
Ellie-May Jarvis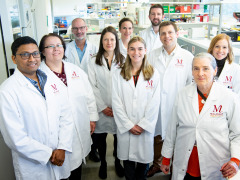 Clinical Trials
Clinical Director:
Dr Robert Weinkove
Deputy Director of Research:
Professor Ian Hermans
Team Leader:
Dr Rachel Perret
Clinical Research Fellow:
Dr Philip George
GMP Manager:
Bethany Andrews
Quality Manager:
Dr Giulia Giunti
Senior GMP Specialist:
Dr Brigitta Mester
GMP Production Technician:
Reggie Duffield
Publications
2020
George P, Brown A, Weinkove R (2020). B-cell Prolymphocytic Leukaemia With a t(4;14) FGFR3/IGH Translocation: Response to Ibrutinib. Pathology. 52(4):491-492.
Dasyam N, George P, Weinkove R (2020). Chimeric antigen receptor T-cell therapies: Optimising the dose. Br J Clin Pharmacol.
George P, Dasyam N, Giunti G, Mester B, Bauer E, Andrews B, Perera T, Ostapowicz T, Frampton C, Li P, Ritchie D, Bollard CM, Hermans IF, Weinkove R (2020). Third-generation anti-CD19 chimeric antigen receptor T-cells incorporating a TLR2 domain for relapsed or refractory B-cell lymphoma: a phase I clinical trial protocol (ENABLE). BMJ Open.10(2):e034629 
2019
Weinkove R, George P, Dasyam N, McLellan AD (2019) Selecting costimulatory domains for chimeric antigen receptors: functional and clinical considerations. Clin Transl Immunology 8(5):e1049