Our people
Dr Nathaniel Dasyam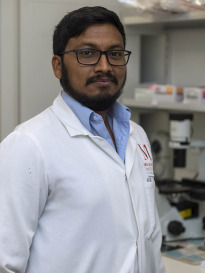 Dr Nathaniel Dasyam received his PhD in Molecular Microbiology from Victoria University of Wellington under the supervision of Dr Robert Alexander Keyzers and Dr Ronan O'Toole. His thesis involved drug discovery of new antibiotics against tuberculosis from marine organisms. He then worked for a year as a Research and Development Scientist at Aroa Biosurgery in Auckland, in the field of medical devices. In 2016 Nathaniel started working as a Research Officer on the MELVAC phase II clinical trial at the Malaghan Institute of Medical Research as part of Professor Ian Herman's cancer immunotherapy programme.
Dr Dasyam is now working as a Postdoctoral Research Fellow with the Freemasons CAR T-cell research programme.
---
Research interests
With immunotherapy we can redirect the immune system to target and eliminate cancer cells, this is such an advancement in the fight against cancer. The idea using one's own immune system in this approach is something that is fascinating.  Our institute is leading this approach in New Zealand, and being part of it furthers my knowledge all the time. Eventually I hope to conduct research combining my immunology research with my drug discovery training. 
Research group
Cancer Immunotherapy Programme
Cancer Immunotherapy Programme Leader:
Professor Ian Hermans
Senior Research Fellow:
Dr Olivier Gasser
Clinical Research Fellow:
Dr Robert Weinkove
Research Fellow:
Dr Nathaniel Dasyam
Senior Research Officer:
Astrid Authier-Hall
Kathryn Farrand
Ching-Wen Tang
Research Officer:
Anna Mooney
Sophia Noble
PhD Student:
Regan Fu
Olivia Burn
Ellie-May Jarvis
Joshua Lange
Honours Students:
Michael Wilson
Research projects
My current work with Dr Robert Weinkove, involves working with the CAR T-cell clinical and production teams to facilitate the safe and successful conduct the phase 1 clinical trial. This will involve planning and  performing immunological assays as well as analysis of clinical samples.
Further to this I will also perform mechanistic studies to elucidate the molecular mechanisms of our CAR constructs. This will also involve comparing the different co-stimulatory domains employed by our third generation construct and how that compares to domains employed by other third generation constructs.
Publications
2015
Riordan SW, Field JJ, Corkran HM, Dasyam N, Stocker BL, Timmer MS, Harvey JE, Teesdale-Spittle PH. (2015). Synthesis of mycothiol conjugate analogues and evaluation of their antimycobacterial activity. Bioorg Med Chem Lett. 25(10):20152-5.
2014
Dasyam N, Munkacsi AB, Fadzilah NH, Senanayake DS, O'Toole RF, Keyzers RA. (2014) Identification and bioactivity of 3-epi-xestoaminol C isolated from the New Zealand brown alga Xiphophora chondrophylla. J Nat Prod. 2014 Jun 27;77(6):1519-23.