Our people
Dr Luis Munoz-Erazo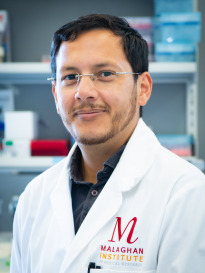 Dr Luis Munoz-Erazo is a postdoctoral research fellow in Professor Franca Ronchese's immune cell biology group and is also part of the Hugh Green Cytometry Centre team.
Dr Munoz-Erazo completed his PhD at the University of Sydney under Professor Nicholas King, investigating innate immune responses of human retinal pigment epithelium cells to West Nile virus (WNV) infection as well as establishing a murine model of retinal WNV infection. His previous postdoctoral role was with Assoc. Professor Roslyn Kemp at the University of Otago exploring the tumour immune microenvironment in human colorectal cancer using high-dimensional microscopy technologies.
---
Research interests
My research interests revolve around understanding the pathogenesis and progression of disease. Investigating immune responses is a key approach. Consequently, I am interested in investigating how various types of leucocytes interact with each other and their microenvironments.
New imaging technologies offer the ability to look at large number of markers, and I'm very enthusiastic about the possibilities these technologies offer to the field of immunology.
Research group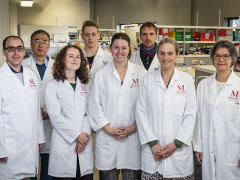 Immune Cell Biology
Immune Cell Biology Programme Leader:
Professor Franca Ronchese
Senior Research Fellow:
Dr Olivier Lamiable
Postdoctoral Research Fellows:
Dr Johannes Mayer
Dr Luis Munoz-Erazo
International Research Fellow:
Dr Kerry Hilligan
Senior Research Officers:
Marie Sophie-Fabre
Shiau-Choot Tang
Evelyn Hyde
Dr Jianping (Mark) Yang
Research Officer:
Abbie Larson
PhD Student:
Greta Webb
Research projects
My research projects within the Immune Cell Biology will explore mechanisms involved in dendritic cell antigen presentation in allergy models, as well as characterising the T-cell subsets that they interact with. To do this, I'll be employing microscopy imaging and especially new histocytometry analysis approaches; as both an exploratory and complementary technique with multiparameter flow cytometry.