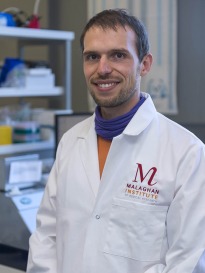 Dr Johannes Mayer is a Postdoctoral Research Fellow in the Malaghan Institute's Immune Cell Biology programme, led by Professor Franca Ronchese.
During his student life Dr Mayer has been involved in various research projects in Germany, France and the US but was most fascinated by the complexity of the immune system. He thus decided to focus his scientific career on studying the intestinal immune system and parasitic immune responses and received his PhD in the UK in 2017.
---
Research interests
As an experimental immunologist I am deeply rooted in in vivo mouse models, which I believe are the only way to understand the complex interactions of the immune system. To assess how the immune system changes during infection I use molecular approaches to understand the expression levels of genes and flow cytometry to look at cell populations and protein expression. As part of my PhD I have also developed surgical techniques to understand how intestinal immune responses against parasites develop.
Research group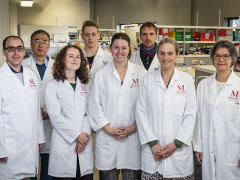 Immune Cell Biology
Immune Cell Biology Programme Leader:
Professor Franca Ronchese
Senior Research Fellow:
Dr Olivier Lamiable
Postdoctoral Research Fellow:
Dr Johannes Mayer
Dr Luis Munoz-Erazo
International Research Fellow:
Dr Kerry Hilligan
Senior Research Officer:
Shiau-Choot Tang
Evelyn Hyde
Dr Jianping (Mark) Yang
Research Officer:
Abbie Larson
Tom Marsland
PhD Student:
Greta Webb
Research projects
I am pursuing several different projects here at the Malaghan Institute, which are all equally exciting. One aspect is to understand the migration of antigen presenting cells and how they transport antigen in different immune scenarios. For this we imported photoconvertible mice, which can be locally 'switched' from green fluorescence to red, allowing us to track cells and observe their migration. 
Another project I am working on is to understand the role of chemokines in Th2 scenarios. Chemokines have long been known to attract T cells to sites of inflammation, but there is accumulating evidence that this might not be their only role. I therefore want to understand if certain chemokines have a role beyond attracting T cells during Th2 immune responses.
I am very passionate about my science and hope that it one day leads to a radical shift in how we understand the immune system. Science is constantly in motion and our understanding of the immune system constantly evolves. It is therefore key to question current beliefs and paradigms and constantly develop and test new and refined hypotheses.
Publications
2017
Mayer JU, Demiri M, Agace WW, MacDonald AS, Svensson-Frej M, Milling SW. 2017. Different populations of CD11b+ dendritic cells drive Th2 responses in the small intestine and colon. Nat Commun. 

Schridde A, Bain CC, Mayer JU, Montgomery J, Pollet E, Denecke B, Milling SW, Jenkins SJ, Dalod M, Henri S, Malissen B, Pabst O, Mcl Mowat A. 2017. Tissue-specific differentiation of colonic macrophages requires TGFβ receptor-mediated signaling. Mucosal Immunol.