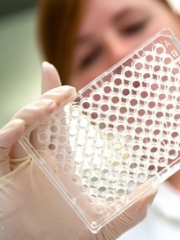 Our cancer research
The immune system has all the properties that are required to complement existing treatments and eradicate cancer. White blood cells called T cells can discriminate between normal and cancer cells, they have powerful cancer killing capability, and can move around the body to eliminate tumours that have spread to other tissues. What's more, immune cells retain a 'memory for cancer – so can re-launch an attack should the tumour start to grow again.
An early 20th century surgeon, Dr William Coley, is often credited with first recognising the potential of the immune system for treating cancer. He showed that he could control the growth of some tumours by injecting his patients with killed bacterial infusions (Coley's Toxins) to stimulate an immune response. Although this was a rather crude approach to cancer treatment, the basic premise of cancer immunotherapy remains the same – to support the immune system in recognising cancer cells, and strengthen its response so that it can destroy them.
We now know that the immune system can be programmed to target cancer cells more precisely through the use of specific vaccines. Cancer vaccines can be created from a patient's own tumour cells, or from synthetic components made to look like a tumour. The aim is to make the tumour appear dangerous to the body in the same way that an infectious bacterium or virus would, leading to a strong immune response.
The Malaghan Institute is at the forefront of this research with an established international track record going back nearly two decades. We are continually improving our own vaccine technology through basic research in the laboratory, and have conducted clinical trials of different forms of the vaccine in cancer patients.
Leading this work is Associate Professor Ian Hermans, the Malaghan Institute's Deputy Director of Research. His team is undertaking a clinical trial of a newly developed melanoma vaccine, in collaboration with Capital & Coast District Health Board, Callaghan Innovation, The University of Auckland and Cancer Trials New Zealand. One of the novel features of this vaccine is the inclusion of the synthetic glycolipid alpha-galactosylceramide (alpha-GalCer), which Associate Professor Hermans' basic research has shown induces significantly stronger anti-tumour immune responses than vaccines without it.
Complementing our clinical cancer work is an extensive basic research programme involving several of the Institute's research groups. Professor Franca Ronchese leads a team of immunologists focused on understanding the role of dendritic cells in driving anti-tumour immune responses. Professor Mike Berridge's research group is exploring how best to combine targeted drug therapies with immunotherapy, with particular emphasis on the new mutant BRAF melanoma drugs. Dr Bridget Stocker's Immunoglycomics team, now based at Victoria University of Wellington, are developing tailor-made immune 'modulators' to switch off unwanted tumour-promoting immune cells. Professor Berridge and Dr Melanie McConnell, now a Senior Lecturer in Genetics at Victoria University, are also utilising their expertise in cell and molecular biology, to investigate the different survival mechanisms used by these cells to  withstand current cancer treatments.
By combining the disciplines of immunology, cell biology and drug discovery in translational research programmes that involve immunologists, biochemists, molecular biologists, chemists and clinicians, we believe our research has the potential to launch a new era in cancer treatment.
We would like to acknowledge the following organisations and individuals for supporting our research programmes:
Cancer Society of New Zealand (National Body and Wellington Division), Foundation for Research, Science & Technology, Genesis Oncology Trust, Health Research Council of New Zealand, Just Paterson Real Estate, Keith Seagar Research Fund, New Zealand Lottery Grants Board - Health Research, The estates of Ellen, Sinclair, Barbara and Alison Wallace, The Royal Society of New Zealand Marsden Fund, The Thompson Family Foundation, Inc. through the Victoria University of Wellington Foundation, Wellington Medical Research Foundation