Cancer
Cancer is a disease that has afflicted people throughout recorded history and is the leading cause of death in New Zealand
Cancer develops when cells in the body accumulate genetic changes that lead to loss of growth control. Normally cells grow, divide and die in an orderly fashion, in response to signals from their environment. In cancer cells however, these cues are lost due and the cells continue to grow and divide in an uncontrolled manner.
In a process termed metastasis, these abnormal cells can spread throughout the body via the bloodstream or lymph vessels, where they continue to grow and replace normal tissue.
It is a sobering fact that despite decades of research and billions of dollars of funding, cancer death rates have changed little over the past 50 years. What's more, cancer remissions are often transient, drug resistance is a major problem and drug withdrawal can result in an aggressive return of the disease.
New, more effective cancer therapies are needed urgently if we are to turn these statistics around.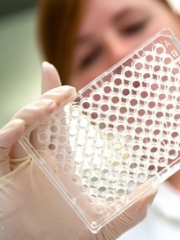 Our Cancer Research
Immunotherapy holds great promise for the treatment of cancer. The immune system has all the properties that are required to complement existing cancer treatments. Immune cells are specific and have the capacity to discriminate between normal and cancer cells, they have powerful effector capacity and can recruit inflammatory cells to destroy neoplastic tissue, and they can migrate to different tissues and eliminate residual metastatic disease.
In 2010 the US Food and Drug Administration (FDA) approved the use of the world's first therapeutic dendritic cell cancer vaccine Provenge for the treatment of certain forms of advanced prostate cancer. Considerable work still needs to be done however before cancer vaccine therapies can be made accessible to the majority of cancer patients.
Over half of the scientists at the Malaghan Institute are involved in research programmes devoted to realising the full potential of cancer immunotherapy.
Recently there has been a new focus on the cancer stem cell, or tumour initiating cell, and the identification of ways to target immunotherapies against these drug and radiation resistant cancer cells. By learning more about the basic biology of cancer stem cells and the pathways they use to survive chemotherapy and radiotherapy treatments, Malaghan Institute scientists hope to develop safe and effective ways to eradicate them.
Over the past decade the Malaghan Institute has made significant progress in translating its cancer basic research into real outcomes for patients - a 'bench to bedside' philosophy that has led to three clinical trials including the current Phase I glioblastoma multiforme trial. This work is supported by a close working relationship with clinicians from the Wellington Blood and Cancer Centre and Wellington Hospital, and access to the Institute's state-of-the-art GMP (Good Manufacturing Practice) facility.
By combining the disciplines of immunology, cell biology and drug discovery in a programme that involves immunologists, biochemists, molecular biologists, chemists and clinicians, this research has the potential to launch a new era in cancer treatment.
We would like to acknowledge the following organisations and individuals for supporting our research programmes:
Breast Cancer Research Trust, Cancer Society of New Zealand, Child Health Research Foundation, Foundation for Research, Science & Technology, Genesis Oncology Trust, Haematology Society of Australia and New Zealand, Health Research Council of New Zealand, Just Paterson Real Estate, Keith Seagar Research Fund, Maurice Wilkins Centre, Melanoma Research Alliance, Neurological Foundation of New Zealand, New Zealand LAM Trust/LAM Australasia Research Alliance, New Zealand Lottery Health Research, Robert McClelland Trust, Royal Australasian College of Surgeons, Surgical Research Trust, The estates of Ellen, Sinclair, Barbara and Alison Wallace, The Graham Hall Bequest, The Royal Society of New Zealand Marsden Fund, The Thompson Family Foundation, Inc. through the Victoria University of Wellington Foundation, Wade Thompson, Wellington Medical Research Foundation