Back to all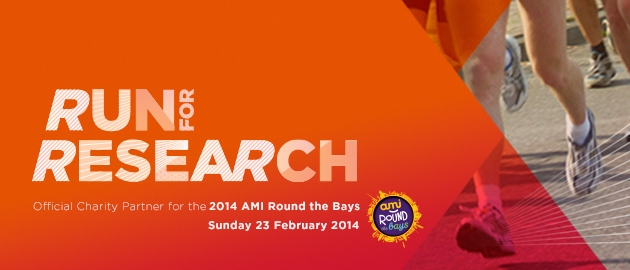 Grab a friend and join us in the Run for Research!
24 October 2013, AMI Round the Bays , Events , Fundraising
SUNDAY 23 FEBRUARY 2014
Here's your chance to take part in the much loved AMI Round the Bays and help raise important funds to support research into diseases affecting our friends, families and community.
With the New Year fast approaching, so too is another exciting event – the 2014 AMI Round the Bays on Sunday 23 February! Once again we're the Official Charity Partner of this iconic event and will be holding our annual Run for Research fundraiser.
Thanks to an awesome group of individuals and teams earlier this year, the 2013 Run for Research raised over $40,000, an incredible achievement. This time around we hope to reach $50,000 to support our scientists and we want you to join us to make this possible.
You don't have to be the super fit, athletic kind to take part – the main event is an enjoyable and achievable 6.5km fun run/walk around the beautiful bays of Wellington, with a 10km or half marathon option for those who want an extra challenge. Whether you approach it as a personal challenge or just a chance to get out and about and enjoy the community spirit while supporting a great cause, grab some friends, family, or colleagues and join us in what will be a fun and rewarding event!
Limited Run for Research 6.5km entries available through the Malaghan Institute

AMI Round the Bays has sold out! However don't fret - if you've missed out on registering for AMI Round the Bays, the Malaghan Institute has a limited number of special 'Run for Research' 6.5km entries. These entries are a fantastic way to enable you to take part in the event and also support the Malaghan Institute at the same time. Click here to find out more.
Join the Run for Research!
If you have already registered for AMI Round the Bays you can raise money to support our research by choosing to 'Run for Research' and setting up an online fundraising page at www.runforresearch.co.nz where friends, family and colleagues can sponsor you. It's really easy to do and every dollar counts!
Sponsor someone taking part

If you are unable to take part in this event, you can still show your support by sponsoring someone you know who is 'Running for Research', or by sponsoring a Malaghan scientist or staff member who is taking part. Just visit www.runforresearch.co.nz and click on 'sponsor a friend' in the top navigation bar.
Volunteer
If you are available on the day (Sunday 23 February 2014), why not join the volunteer group helping make the event possible? To register your interest please email runforresearch@malaghan.org.nz with your contact details.
Help spread the word by forwarding this on to your friends, family and colleagues
Please spread the word and help make the Run for Research fundraiser a great success. With your help we can increase awareness of the research being conducted by the Malaghan Institute right here in New Zealand.

 
Support the Run for Research as "Every Step Brings Us Closer to a Cure"
For more information
Victoria Hale
Individual Giving Manager
Em.

Ph.

+64 4 499 6914 ext 821

Fax.

+64 4 499 6915
Sign up to stay informed
Receive our monthly communications and keep up to date with our research and events.
Sign up