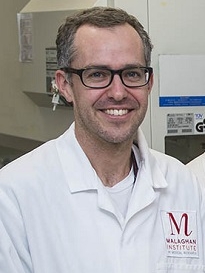 Dr James Baty has been a Research Fellow at The Malaghan Institute since 2009. He completed a PhD on the signalling functions of naturally occurring oxidants in cells at the University of Otago Christchurch School of Medicine and Health Sciences thirteen years ago. Today, he is a key researcher in our Cancer Cell Biology group. 
Dr Baty also works at the Victoria University of Wellington School of Biological Sciences to study various aspects of insect life in New Zealand.
---
Research interests
I investigate the phenomenon of mitochondrial transfer, alongside Professor Mike Berridge. I am inspired by our ultimate aim, which is to understand cancer biology to create treatments and preventions. I enjoy the everyday learning and problem solving of research, and working with my colleagues to achieve common goals.
I also work with Victoria University of Wellington to improve the health of bees and research ways to limit the spread of invasive insects in New Zealand.
Research projects
Our group wants to answer two questions – does mitochondrial transfer occur in bone marrow transplant patients and is there transfer in brain tumour models? On a day-to-day basis, I use the technology available at the Malaghan Institute to detect changes in the DNA or RNA of tumour cells. Changes to the amount of mitochondrial DNA, or to the sequence, can indicate that a cell has received mitochondria.
We are trying to determine whether mitochondrial transfer occurs normally to repair damaged cells, and if it happens in other types of cancer. If we discover that this process is a key to cancer progression, an entirely new avenue of cancer therapies could be unlocked.
I use similar molecular techniques to study insect samples at Victoria University. However, these are to answer very different questions, such as whether there is evidence of a viral infection.
Publications
2017
Dobelmann J, Loope KJ, Wilson-Rankin E, Quinn O, Baty JW, Gruber MAM, Lester PJ (2017) Fitness in invasive social wasps: the role of variation in viral load, immune response and paternity in predicting nest size and reproductive output. Oikos
Gruber MAM, Cooling M, Baty JW, Buckley K, Friedlander A, Quinn O, Russell JEFJ, Sébastien A, Lester PJ (2017) Single-stranded RNA viruses infecting the invasive Argentine ant, Linepithema humile. Scientific Reports
2016
Waghorne CL, Corkran HM, Hunt-Painter AA, Niktab E, Baty JW, Berridge MV, Munkacsi AB, McConnell MJ, Timmer MS, Stocker BL (2016) N,N-Bis(glycityl)amines as anti-cancer drugs. Bioorganic & Medicinal Chemistry
2015
Tan S, Baty JW, Dong L-F, Bezawork-Geleta A, Endaya B, Goodwin J, Bajzikova M, Kovarova J, Peterka M, Yan B, Alizadeh Pesdar E, Sobol M, Filimonenko A, Stuart S, Vondrusova M, Kluckova K, Sachaphibulkij K, Rohlena R, Hozak F, Truska J, Eccles D, Haupt L, Griffiths L, Neuzil J, Berridge MV (2015) Mitochondrial Genome Acquisition Restores Respiratory Function and Tumorigenic Potential of Cancer Cells without Mitochondrial DNA. Cell Metabolism
2014
Tan AS, Baty JW, Berridge MV (2010) The role of mitochondrial electron transport in tumorigenesis and metastasis. BBA General Subjects
2010
Mulchin BJ, Newton CG, Baty JW, Grasso C, Martin WJ, Walton M, Dangerfield EM, Plunkett CH, Berridge MV, Harper JL, Timmer MS, Stocker BL (2010) The anti-cancer, anti- inflammatory and tuberculostatic activities of a series of 6,7-substituted-5,8- quinolinequinones. Bioorganic & Medicinal Chemistry
2009
Cuddihy SL, Baty JW, Brown KK, Winterbourn CC, Hampton MB (2009) Proteomic Detection of Oxidized and Reduced Thiol Proteins in Cultured Cells. In: Methods in Molecular Biology: Two Dimensional Electrophoresis Protocols. Humana Press, New Jersey
2007
Herst PM, Petersen T, Jerram P, Baty JW, Berridge MV (2007) The antiproliferative effects of phenoxodiol are associated with inhibition of plasma membrane electron transport in tumour cell lines and primary immune cells. Biochemical Pharmacology
2006
Hampton MB, Baty JW, Winterbourn CC (2006) Use of a Proteomic Technique to Identify Oxidant-Sensitive Thiol Proteins in Cultured Cells. In: Redox Proteomics: from Protein Modifications to Cellular Dysfunction and Diseases (Dalle-Donne I, Scaloni, A, and Butterfield, A). John Wiley & Sons Inc.
2005
Baty JW, Hampton MB, Winterbourn CC (2005) Proteomic Detection of Hydrogen Peroxide-Sensitive Thiol Proteins in Jurkat Cells. Biochem J. and Erratum in Biochem J.
2002
Baty JW, Hampton MB, Winterbourn CC (2002) Detection of Oxidant Sensitive Thiol Proteins by Fluorescence Labelling and Two-Dimensional Electrophoresis. Proteomics