Back to all News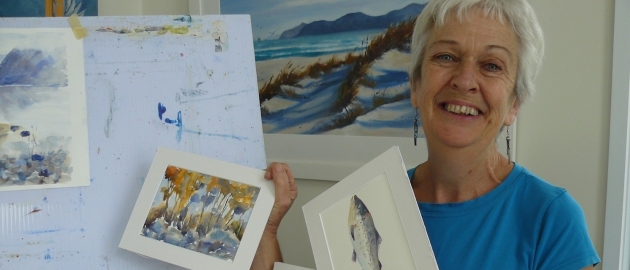 A painting a day for cancer research
01 March 2013, Cancer, Supporting the Malaghan Institute
Jan Thomson is an incredibly talented artist, with an inspirational story to share.
Nine years ago, she was diagnosed with a rare and aggressive cancer. Despite a poor prognosis, Jan survived.
Throughout her treatment, Jan painted, an interest she had developed just two years prior to her cancer diagnosis.
"I learnt to paint by going out to Wellington's (sometimes wild) south coast, wrestling with the elements and trying to put down on paper what was in front of me," says Jan. "This was an often frustrating, sometimes thrilling journey to embark on. At times I've been bitterly disappointed with my efforts, at other times awed by what I've managed to capture - and I guess that's what keeps a painter painting, you never know if the next one will have the wow factor!"
Now a full-time artist based in the Nelson Lakes, Jan recently raised $2850 in support of the Malaghan Institute's cancer research by auctioning a watercolour painting a day for a whole month.
"Cancer is something that affects all of us, and research into preventing it could save the life of someone close to you," says Jan. "It has already saved mine!".
Jan's watercolour paintings measured approximately 180x140 mm, and sold on TradeMe for between $40 to $170.
On behalf of everyone at the Malaghan Institute, we extend Jan our utmost gratitude for doing such an amazing thing to support our cancer research. Your paintings are beautiful.
For more information
Jenny Sim
Development Manager
Em.

Ph.

+64 4 499 6914 ext 811

Fax.

+64 4 499 6915
Sign up to stay informed
Receive our monthly communications and keep up to date with our research and events.
Sign up